Character Name: Nivek
Class: Hunter
Talent Build and why you chose it: Survival, its the best dps at the moment
What is your dps/tanking/healing rotation/priority on spells: I use Explosive shot serpent sting steady shot aimed shot black arrow and kill shot the normal nuke attacks
Do you have any alts? If so please list them here : no alts
Armory Link:
http://eu.wowarmory.com/character-sheet.xml?r=Karazhan&n=Nivek
Raid Progress:
Classic - 0
TBC - karazhan za and gruul
WotLK - naxx 10/25man voa 10/25man os 10/25 man 1d ulduar 10 eoe 10/25
Personal Information
Age: 16
Where are you from?: Sweden
Tell us a little about yourself: Im a social person and think of other people.
General Information
What guilds have you previously been in and reason why you left/got removed. To bad progress and attendence
Do you know anyone in the guild who can vouch for you? No i do not.
Are you comfortable with not always having a guaranteed raiding spot? yes very.
pLayers generally raids from 20-24 server time from sunday-thursday. What days and times (server time)can you raid? thats good but i rather start at 19.
Do you have ventrilo or are willing to install it? I got it
What addons do you use? X-perl dbm cartographer closet gnome atlas loot miks scrolling battle text i am able to download more if thats what it takes.
Finally Why should we pick you? I do nice dps and i might help out abit

Anything else you would like to add? Not at the moment
Last edited by Edgey on Wed Jul 01, 2009 10:50 am; edited 2 times in total (Reason for editing : Forgot 1 thing on progress in wotlk)



Posts

: 1


Join date

: 2009-06-26



Hi Nivek.
Good aplication and all, but i have some things to had.
1- Your spec is not the best for PvE atm,
http://www.wowhead.com/?talent#cZ0eVooZx0ci0cIhedAhsd
try this 1 instead i'll explain that spec more ingame if u want.
2- You could replace 1 of ur hit gems for a agility and u would still be hit capped
3- Your glyphs are a bit questionable, the glyphs you should have are Kill shot / Explosive shot / serpent sting ones
4- The best rotation for Survival is Black Arrow (+6% increased dmg) Serpent sting ( +3 % increased dmg) then Explosive shot / Multi or Aimed shot / steady / steady.... yadayadayada Explosive when available, Multi when available and renew Serpent sting 1 sec after it goes off.
In Overral : You have potential has a hunter although u need some minor changes
PS: I dont have a call on either you join or not thats a officer decision.
This is coming from you yourni who cant supass 4k dps full 25 man raid buffed??



Posts

: 17


Join date

: 2009-03-24



Lol reccy u havent played in awhile ur certain of what ur saying? 4k dps is easy to get even unbuffed for me, dunno about you tho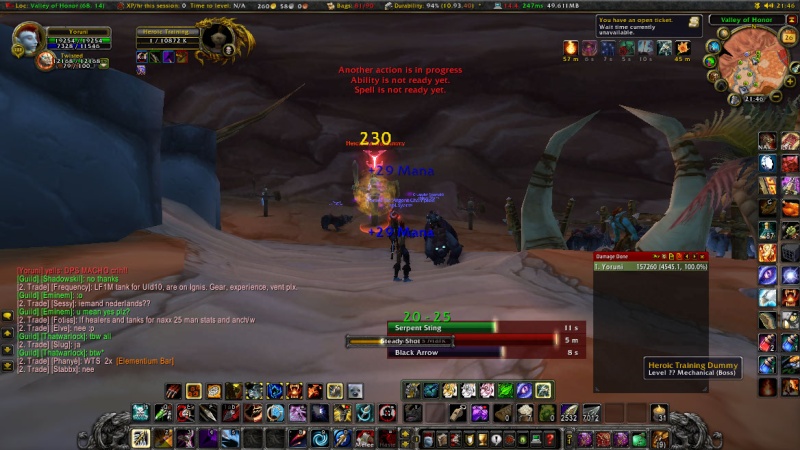 Made this 1 expecially for ya reccy
you must be doing something horribly wrong in raids then, 3 DPs meters ive been shgown, you pretty much bottom of them all, 4.2k dps, 4.4 then a 3.8k,
fair play you did 4.5k dps on that dummy, but also did it at 157,260 damage first? thats alot of damage first to get that, i will bet everything i own that you used a kill shot or two

But anyways, off out now to get laid, enjoy wow



Posts

: 17


Join date

: 2009-03-24



Hey, I think your gear is good, and from your talents /enchants and gems I can see u know theory.
But your Ulduar expirience is low.
You shuld get a chance, but officers will decide on that.



Posts

: 2


Join date

: 2009-06-03




---
Permissions in this forum:
You
cannot
reply to topics in this forum